What is IFMA CFM Certification?
Certified Facility Manager (CFM) is a certification provided by the International Facility Manager Association and as the name suggests, the certification is for Facility Managers. The Certified Facility Manager (CFM) is a globally recognized certification and it authenticates that the certificate holder has displayed proficiency in the field of Facility Management. CFMs are employed in various types of organizations such as hospitals, schools, hotels, office buildings, etc. These individuals can manage facilities from 1 to 100 across the world.
CFM Certification Online Training Overview
Pass Your Cert exclusively provides one-to-one training sessions by professional trainers who have experience of more than 15 years and we provide practice questions that increase your chance of clearing the examination exponentially. If you opt for our training for Certified Facility Manager, you will increase your competency in the following areas.
Occupancy and Human Factors
Operations and maintenance
Sustainability
Facility Information Management/Technology Management
Risk Management
Communication
Performance and Quality
Leadership and Strategy
Finance and Business
Real Estate
Project Management
What distinguishes a certified facility manager?
It is clear that if anything is distinguishing in the jobs of Facility Manager's job, it is "Certified" but what does it means actually? If used correctly, it is meant to differentiate a professional who has successfully obtained a certificate that is relevant to facility management from an individual who does not certify anything. However, apart from CFM, we also give training for the following certifications provided by IFMA:
Facility Management Professional (FMP)
Sustainability Facility Professional (SFP)
RICS Chartered Qualification (MRICS)
RICS Associate Qualification (AssocRICS)
Eligibility Criteria for IFMA CFM
Education and Work Experience Required
The candidates are required to meet the following requirements to be eligible for the CFM Certification:
| Category | Option 1 | Option 2 |
| --- | --- | --- |
| Education | Degree in Bachelor's or Master's Level Facility Management | No FM Degree |
| Work Experience (FM) | 03 Years | 05 Years |
Apart from these criteria, the candidate is required to meet some Ethics Requirements which are set by the IFMA, and for those details, you must contact us or read it on the official website of IFMA.
Benefits of IFMA CFM Certification
The most beneficial point of obtaining a Certified Facility Manager (CFM) Certification is that it is globally recognized and assures your professional excellence establishing standards for global professional practice, promoting the added value of the profession, and influencing the future direction of the profession.
Along with these benefits, This certification will help you with the following Individual as well as Workplace benefits:
Distinguish the FM → Stay Competitive in today's job market.
Invest in your Future → CFMs earn an average of 25% more annually than their non-credentialed FM peers.
Establish your standards → CFMs practice global professional FM standards.
Demonstration of leadership, as well as initiative → Having a CFM Certificate, is not that easy but it is a tangible sign of success as well as expertise in the field.
IFMA CFM Certification Details
Here you will find the most crucial information about the CFM Certification which you should know before applying for the exam you will get to know about the format of the exam, what is the salary of a CFM, and lastly what is the exam cost of a CFM Certification.
CFM Exam Format
The Certified Facility Manager Exam consists of 180 multiple-choice questions which include 20 questions that are non-scored. This exam is computer-based and the duration of the exam is 4-hours. The exam supports only the English language and calculators & glossaries are prohibited as well as any kind of book/notes. However, candidates are allowed to have scratch paper and a pencil with them during the exam.
CFM Certification Salary Details
In the table given below, you will see the average salary given to a CFM Certificate holder in the U.S.
| Job Title | Range | Average |
| --- | --- | --- |
| Facilities Manager | $48k – $108k | $80,031 |
| Facilities Director | $70k – $140k | $96,508 |
| Facility Manager | $46k – $131k | $75,000 |
| Regional Facilities Manager | $70k – $132k | $108,000 |
| Facilities Operation Manager | $38k – $159k | $68,784 |
| Vice President (VP), Facilities Management | $95k – $185k | $163,500 |
CFM Certification Exam Cost
| Tier | Application Fee in USD |
| --- | --- |
| 1 | $550 member / $815 non-member |
| 2 | $449 member / $652 non-member |
| 3 | $341 member / $505 non-member |
| | |
GSA* – $529.49
Why Earn CFM Certification?
An International Facility Management Association (IFMA) Certified Facility Manager (CFM) credential is the basis for the standard to ensure the skills and understanding of experienced Facility Managers. Today more than ever, people are acknowledging their competence and making it clear that they are competent, benchmarks and the setting of performance standards are essential to Global economics. Never before have private and public sector employers depended on certification organizations as they are now. Professional associations are following the same path as they did in the past. The IFMA CFM program is the very first to be launched and remains the only internationally recognized certification for facility management.
The certification process of IFMA is designed to measure competence on the job through training, experience, and training the ability to pass an extensive test covering 11 subjects' competence areas that comprise the body responsible for facility management of information. Since the program started in 1992, it has produced more than 6,000 Facility Managers across 38 different countries. There are around 3,300 currently active CFMs around the world and it is one of the most prestigious certifications for Facility Managers.
Why choose www.passyourcert.net for CFM Online Training?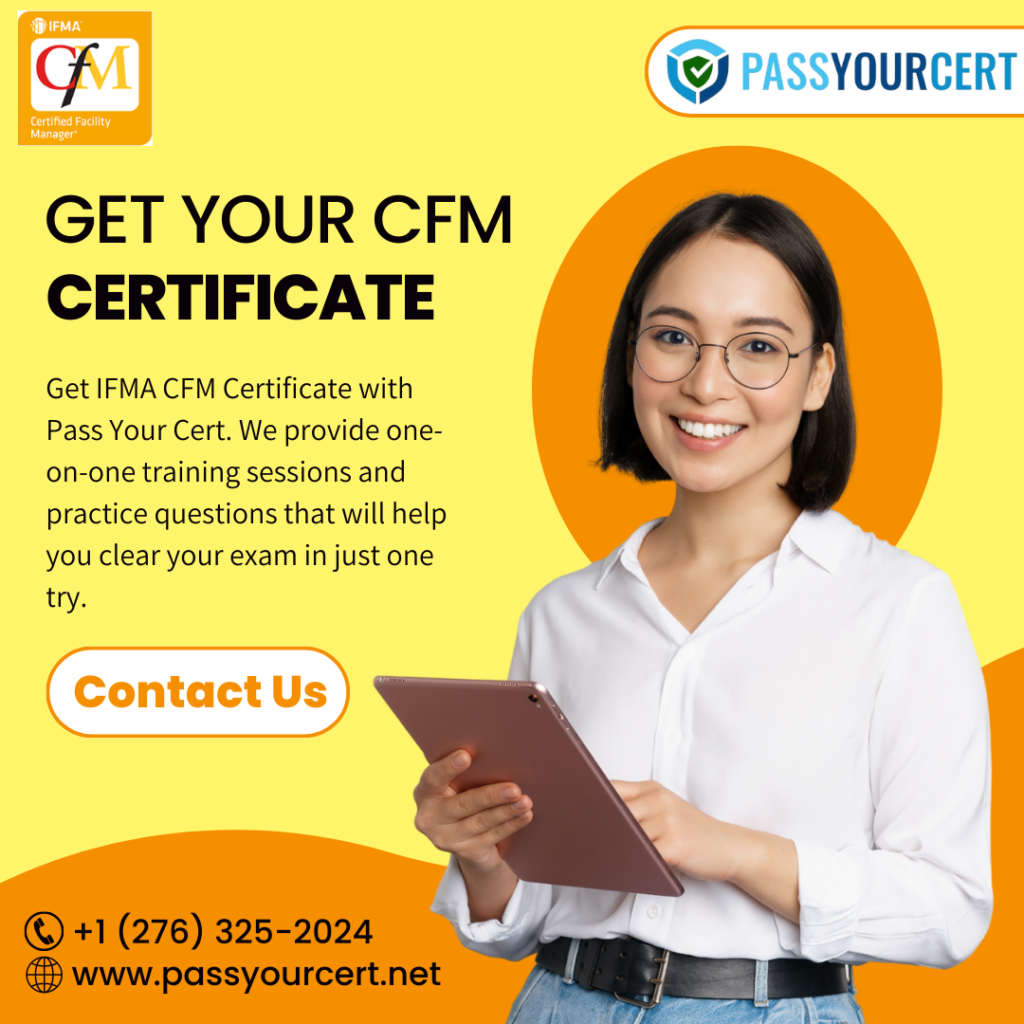 We invite you to take a look at one of our training sessions as we provide one-to-one training which is given by professional trainers who have experience of more than 15 years. Apart from this factor, we provide sample papers and practice questions which will definitely prepare you for the exam and clear it in one try. We provide our clients full assistance along with 24*7 support by our team that will help you with any problem you face. Kindly contact us for further details about the training for CFM.
If you find this article helpful in any way, make sure to share it with your friend or someone who might find this helpful. Also, follow our social media handles mentioned below to stay updated with the latest updates related to IFMA CFM Certification.
What is the exam cost for CFM?
The exam cost for CFM may vary from $341 to $815 depending on the factor that have you have an IFMA membership or not.
How long does it take to get CFM certified?
This certificate is not necessary for CFM certification, but it may substitute for up to three years of experience in meeting CFM standards.
How many questions are there in the CFM Exam?
There are a total of 180 questions present in the CFM Exam. However, 20 of these questions are non-scorable.
What is the salary of a Certified Facility Manager?
You can get up to $131,000 USD Per Annum as your salary after getting certified as a CFM.
Where should I get training for CFM?
You should consider doing training for the CFM exam with www.passyourcert.net.
How do I become a certified facility manager?
First, you need to check your eligibility on www.passyourcert.net. Now, if you find yourself eligible for the certification, you must take some training sessions with our professional trainers before appearing for the exam. Contact Us for further details related to the training sessions.